Fragrant, Mediterranean-scented Basil brings sunshine and sparkle to the kitchen. Cooking with Basil is easy and creates delicious flavours. From fresh pesto to tomato soup, many recipes depend on this bright herb to transform the ordinary into the gourmet. If you've been growing basil
this year, try one of our recipes – favourite bruschetta or home-made pesto – and benefit from the just-picked taste that you can't get in a supermarket.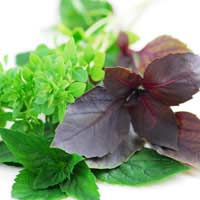 Growing Basil
Basil likes a sunny climate, so it's best grown in a greenhouse or on a windowsill. If you live in the milder south, it's possible to grow basil in the summer outdoors. Start off the seeds in April, sowing lightly on seed compost and covering finely. Put in a warm spot and keep the soil damp (water into the tray, so you don't disturb the seeds). Thin out the seedlings to give the best a bit more room, and pot on when the seedlings have 3-5 true leaves. Put the pots in the greenhouse or plant out in a sheltered, sunny spot.
Don't let the basil flower, as this alters the taste and prevents the plant from putting energy into leaf production. Pick leaves as you need them and, towards the end of the season, harvest the plants – use fresh if you can.
Fresh Basil Pesto Recipe
Fresh pesto is completely different to the manufactured type that you can buy from the chiller cabinet. In Italy, home cooks are fiercely defensive of their own pesto recipe – and some villages celebrate special pesto-making festivals. This simple sauce is one of the very finest ways to dress good pasta – a perfect summer lunch. It's absolutely worth giving this a try.
You need:
250g picked basil (try not to bruise it yet).
1 clove garlic.
40g pine kernels, toasted in a dry frying pan
Pinch of rock salt
40g Parmesan, freshly grated.
200-300ml good olive oil.
Use a pestle and mortar to first crush the garlic with the salt. (Tip: if you are not keen on garlic, just rub a cut clove around the inside of your mortar before continuing with the nuts.) Add the pine nuts and continue to grind together until you have a medium-coarse, sandy texture. Now start adding the basil leaves, a few at a time – they will quickly wilt down. Once you've crushed the leaves well (check for stringy bits), stir in the cheese and use a fork or spoon to whisk in the olive oil, quickly, to produce a thick green emulsion. Don't overwork the pesto – as soon as the oil's in, it's ready to serve. Great over freshly-cooked linguine.
Basil Bruschetta Recipe
If you can lay your hands on fresh tomatoes as well as fresh basil, make this classic Italian treat. Traditionally served as part of the antipasto, it also makes a lovely summer lunch.
You need:
500g ripe tomatoes.
1 clove garlic.
2tbsp balsamic vinegar
2tbsp olive oil
Handful fresh basil.
Sugar, salt and pepper.
1 loaf French or Ciabatta bread
Dice the tomatoes straight into a roomy bowl. Taste to see if they need a little extra sugar to enhance the sweetness. Dress them with the vinegar and oil, and stir in the crushed garlic. Tear the basil finely with your hands and stir into the mixture. Season to taste and cover the bowl with clingfilm; put it in a warm place, like a sunny windowsill, for as long as possible to let the flavours warm up and mingle. When ready to serve, slice the bread and drizzle with olive oil. Toast or griddle it and arrange the slices on a large platter. Put a spoonful of tomato on each piece and serve with extra olive oil, if you like.