If you're planning on creating a herb garden, or want to revamp an existing one, think about visiting one of the many well-established famous herb gardens throughout the country. They may be on a larger scale than you're envisaging for your own but they'll let you see the variety of herbs available, including some you may not have considered, what the mature herb looks like and which herbs go well together. Our list of the best herb gardens to visit in the UK and Ireland will provide some inspiration!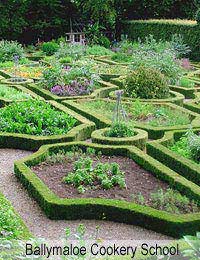 An established herb garden can be a source of inspiration to you, causing you to stop and rethink your plans to include that wonderful idea you saw at Ballymaloe or the Herb Garden. Or you can simply enjoy a day out taking pleasure in the results of someone else's hard work.
---
Visiting Herb Gardens
You'll find herb gardens at many National Trust and English Heritage properties. Herb gardens played a vital role in old households, providing flavouring for the food, medicine and even air fresheners! In large estates they were usually to be found near the kitchen.
Before you visit an historical estate do check that it's open. Most close during some of the winter months and are only open part of the week for the rest of the year. You may also want to choose a time when the herbs will be in full bloom so you can really enjoy their scents.
---
Herb Gardens to Visit in the UK & Ireland
Ireland
The herb garden at Ballymaloe Cookery School in County Cork looks as if it's been there for years; in truth it is a recent addition to the grounds. Protected by 6′ high beech hedges, the herb garden enjoys its own micro-climate, allowing even tender herbs to flourish.
There are over 70 varieties of herbs to be found here including lovage, sweet cicely and angelica, and there are two beds specifically for mint in its many and varied forms, such as spearmint, apple mint and ginger mint. The Ballymaloe Cookery School runs courses throughout the year but the gardens and farm shop are also open for the public to visit.
---
North of England
In Cumbria near Penrith, the Acorn Bank Garden boasts 250 varieties of herbs, making it the largest collection in the north of England. Take time to wander around the herb garden and investigate the stories behind the herbs, and then, in its tea-rooms, you can sample herbs from the garden in wonderful home-made soups and salads.
Near Jarrow in Northumbria you'll find the herb garden at Bede's World. The garden, which began life in 1978, is based on mediaeval and Anglo-Saxon principles and plants. You'll find herbs used for cooking and herbs used for medicinal purposes in separate beds, as well as beds for herbs known to have been in use in Anglo-Saxon times.
---
The Midlands
The Herb Garden in Chesterfield, Derbyshire, was begun in 1983 and, over time, it has seen the development of four distinct herb garden areas.
The original garden contains many different sorts of herbs that are used in cooking, medicinally and for dyeing wools.
The owners of the Herb Garden have been collecting medicinal herbs from all over the world for about 25 years and the result of their dedication can be found in the Physic Garden. The herbs there include ginseng, belladonna and mandrake.
Over 40 kinds of lavender, all clearly labelled, can be found in the Lavender garden. This is one of the most comprehensive collections of lavender in the country. Best visited in July and August for the perfume.
The Pot Pourri Garden is very popular with bees, butterflies and visitors alike for its wonderfully scented herbs and roses.
---
Also worth a visit
At Mount Grace Priory, near Osmotherley, North Yorkshire, English Heritage has recreated the herb garden of a Carthusian monk from 600 years ago. Herbs planted include fennel, which was used to suppress hunger during the Lenten fast, and hyssop, which was thought to protect against evil.
In the herb garden at East Riddlesden Hall in Keighley, West Yorkshire, you can explore the secrets of herbs with information boards and hands-on activities (for children but grown-ups may enjoy as well!)
Finally if you're interested in Caribbean cooking, head for Wightwick Manor and Gardens in Wolverhampton where you'll find a newly-created Caribbean herb garden.