Italian herbs are delicious, with a distinct fragrance that transports you to the Mediterranean. Close your eyes and imagine yourself sitting in a sunny courtyard outside an old stone house in Tuscany, Italy. Just to your left are lemon groves and to your right, olive trees, but the smell that is wafting under your nose comes not from the gardens but from the kitchen. Through the open door you can just see Mama tasting a spoonful of the rich herby tomato sauce, simmering on the stove, that you're going to have stirred through the pasta she made fresh that morning. Take a deep breath; can't you just smell it?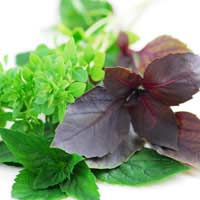 The most distinctive of the favoured herbs of the Italians are basil and oregano, essentials in many of our favourite Italian pasta dishes and salads. Popular throughout the Mediterranean countries, they thrive in sunny climes but can also be grown successfully in Britain.
Basil – The Ultimate Italian Herb
Basil can be grown in well-drained containers on window-sills or planted outside from about mid-May. To thrive this herb does need sunshine so put it in an easily-moved pot if necessary to follow the sun. Other than that it's fairly simple in its requirements. One thing to remember about this herb is that it doesn't like water on its leaves so always water from below.
Pick off leaves as required, from the top to encourage further bushy growth. To preserve basil, collect leaves in a small plastic bag and freeze. Use as required.
---
Oregano – Essential for Pizza and Pasta Sauces
Oregano also grows well in well-drained containers or in chalky or sandy soils in the garden. Sow the seeds indoors early in the year and, when you plant them out, make sure you choose a sunny position. Take care not to overwater.
Harvest the leaves before the oregano flowers or pick off the flowers before they open otherwise the flavour of the leaves will be affected. Dry oregano by hanging upside in bunches in a cool dry place. When dry, crumble and store in airtight jars.
---
Easy Italian Herb Recipes
The beauty of Italian Herbs is the simplicity of the recipes to enjoy their fresh flavours. Here's our favourite recipes to use up basil and oregano. They're easy enough to make from scratch on a weeknight, providing your family with fresh and fabulous flavours of Italy.
Simple Tomato Sauce for Pasta
Use for pasta or as a base for Bolognese sauce. Simmer for longer to give a thicker sauce suitable for pizza topping.
1 tablespoon olive oil
2 cloves garlic, peeled and finely chopped
1 tin tomatoes
2 tablespoons tomato puree
Freshly ground salt and pepper
½ teaspoon dried oregano
½ teaspoon sugar
Handful fresh basil leaves, roughly chopped
Heat the oil in a frying pan. Add the garlic and toss for a minute or so. Don't let it burn. Add the tinned tomatoes and tomato paste, seasoning and oregano. Bring to the boil and simmer for 20 to 30 minutes. Add the basil about 5 minutes before the end of cooking time.
You can buy tins of cherry tomatoes in some supermarkets now. They have a superior flavour usually.
If you're using fresh tomatoes, skin by first plunging in boiling water. Remove after a couple of minutes, hold under running cold water to cool and then peel, halve and remove seeds.
Simple Pesto Recipe
Handful of basil leaves
Handful of pine nuts
50g freshly grated parmesan cheese
5 tablespoons olive oil
Place all ingredients into a food processor and whizz until smooth. Alternatively you can use a pestle and mortar.
Add garlic or seasoning to taste.
Italian Chicken Oregano
4 Chicken drumsticks
4 Chicken thighs
4 cloves garlic, peeled and finely chopped
2 tablespoons parsley, finely chopped
Juice of 1 lemon
4-5 tablespoons olive oil
4 tablespoons dried oregano
Freshly ground salt and pepper
Wash the chicken pieces, remove the skin and pat dry. Make a marinade by mixing all the remaining ingredients together.
Place the chicken in a wide shallow dish and pour over the marinade. Cover and refrigerate for at least 2 hours, turning occasionally.
Cook under a pre-heated moderate grill until golden and cooked through. Serve with green salad and lemon wedges.